Menehune Shores
Nearly 4 acres of charmingly landscaped land

6 story building curved toward the clear blue Pacific with 360-degree views

Views of the islands of Kahoolawe, Lanai and Molokini, Ma'alaea Bay, West Maui Mountains and Mount Haleakala

Washer/dryer in every unit.

Outdoor oceanfront gas barbeques as well as open-air rooftop babrbeque option.

Our Maui vacation rentals feature full kitchens and large private lanais (patios/decks), FREE WiFi, Free Internet Access and Free parking.

Close to Sugar Beach Events, Uilani's Shave Ice, Sugar Beach Bakery and the Kihei Farmer's Market, world class golf, island shopping, fine dining and tasty local treats and treasures.

Monsoon India, Maui's best Indian restaurant is at this same location with oceanfront views and mouthwatering cuisine.

Ancient Hawaiian Fishing Pond "Kalepolepo" provides a sheltered ocean swimming area.
Kihei Vacation Rentals: Soak up the sun and take in the ambiance from the pool deck or sandy beach at Ali'i Resorts presents Menehune Shores, a vacation condo collection consisting of one, two and three bedroom units with beachfront and ocean views. This six story building is a sea facing property with breathtaking 360-degree views. Sit back, relax and appreciate the beautiful sunsets from the comfort of your own condo. Next to this property is the historic 16th century ancient Hawaiian fishpond that was listed on the National Register of Historic Places in 1996. The stretch of sand tends to be less crowded than some of the other, better-known beaches, so you'll experience a more low-key atmosphere. The property features an on-site restaurant and is in a conveniently located for all of your exciting Maui adventures to begin. You'll find plenty of sightseeing attractions as well as diverse restaurants, boutiques and gift shops just a short drive away. Fall in love with the intimate and relaxed atmosphere of Maui and the Menehune Shores uniqueness.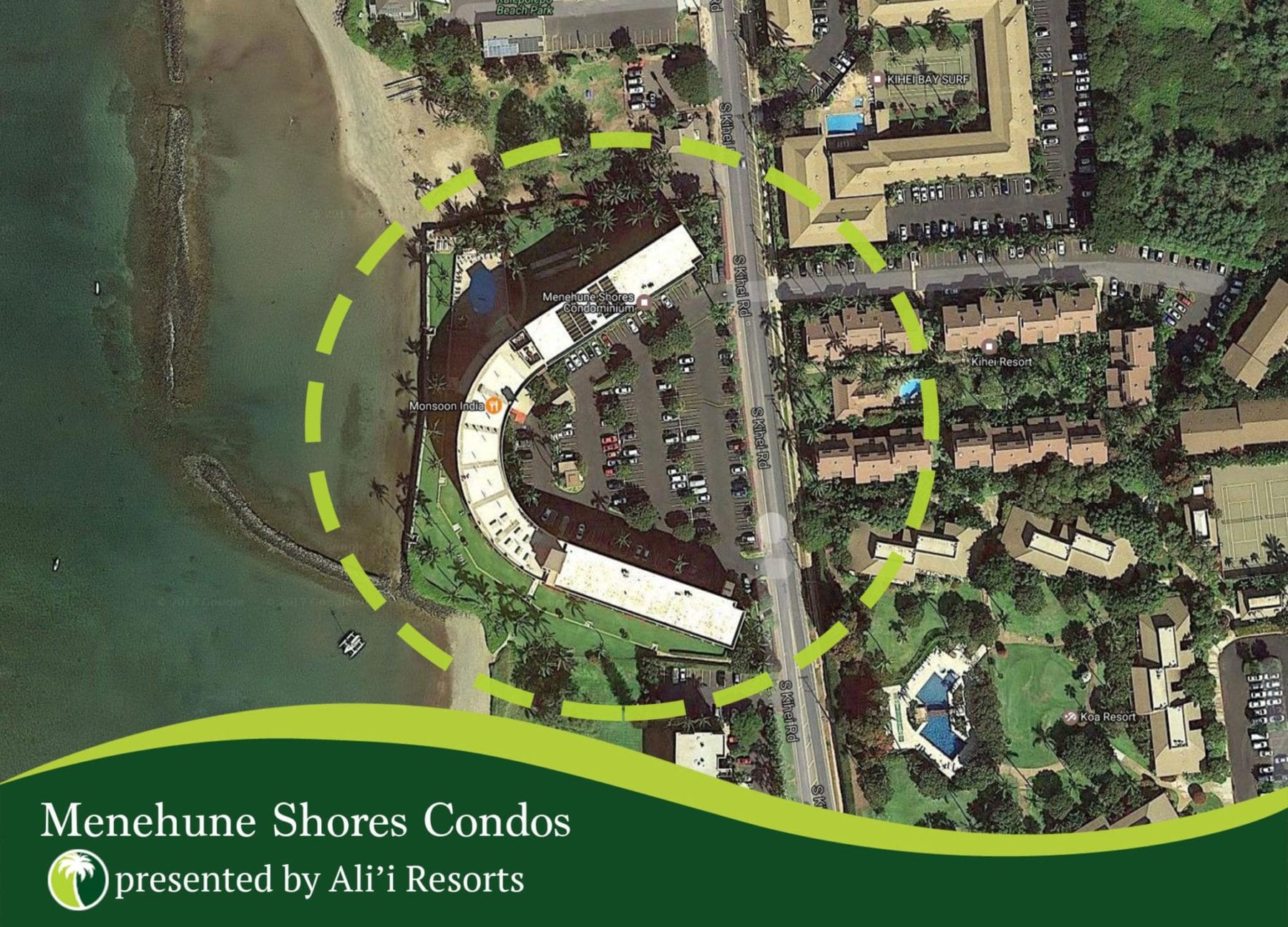 Condo Amenities
Luxury Linens, Air Conditioning (in Select Units)In Unit Washer and Dryer, Hair Dryer, Iron and Ironing Board, DVD, Cable TV, Free Wi-Fi, Free Local Phone Service, Ceiling Fans (in select units), Private Lanais (balcony), Beach Towels, Beach Chairs and Cooler Kitchens Include: Toaster, Microwave, Coffee Maker, Oven, Dishwasher and Refrigerator
Property Features
Ocean Front Pool, Lawn BBQ Area, Roof Top BBQ, Picnic Area, Free Parking (1 Car Per Condo), Outdoor Furniture, On Site Restaurant (Indian Cusine), Elevator Available
Staff Services Provided By Ali'i Resorts
Exceptional Service, Pre-Arrival Condo Inspection, Arrival Greeting at Your Condo, Luxury Linens Deluxe Bath Amenities, Friendly On Island Vacation Staff, Return Guest Rewards, 24 Hour Emergency Assistance
Concierge and Activity Services Through Ali'i Resorts
Culinary Experiences, Chef Services, Farm Tours, Child Care Services & Equipment Rentals, Beach Equipment Rentals, Helicopter Tours, Zip Line Adventures, Maui Ocean Center Aquarium, Submarine Tours, Adventure Ocean Raft Tours, Festivals, Bike Tours, Hiking Tours, Special Events, Shows, Brewery Tours, Distillery Tours, Wine Tours, Wedding Planner Services, Diving & Snorkeling Adventures, Surf Lessons, Whale Watching, Sport Fishing, Local Recommendations on where to find the Best of Maui and more