A vacation to Maui is always memorable no matter what you do, but is it truly meaningful?
If you have the means to come visit us and enjoy the beauty of our island, then you are truly fortunate. Want to spread the good fortune, help preserve the delicate ecosystem of our island, and take with you an important learning opportunity on your trip?
Maui needs you now more than ever. On August 8, 2023, Lahaina, Maui was devastated by wildfires leaving only the foundations of homes, businesses, and sacred cultural sites. Over 5,000 people have been displaced and must try to begin their lives again from scratch. As one of the worst wildfire disasters in history, this fire was not alone that day. Hurricane winds fueled several wildfires on Maui that day severely damaging a significant area of our Upcountry neighborhood displacing even more people and leaving the water in the area contaminated. The Maui community came together in the immediate hours after the fire to rescue, support, and feed those affected by the fires but now Maui needs your help.
Consider Volunteering on Maui
Now you can with many different types of volunteer opportunities offered by both local and national organizations. Give back to Maui and help preserve the island that we all love so much!
As we try to lift our heavy hearts and rebuild our beloved Lahaina, Maui will need the help of more than just its citizens. The lack of tourism as a result of the fire is straining the small businesses on Maui that sustain so many Maui families. Consider supporting small businesses and restaurants whenever possible while you visit and if you are able to volunteer in the restoration of Lahaina effort or are able to donate to families and individuals in need, Maui greatly appreciates it.
Maui Volunteer Opportunities
In 2022, legislation passed by the state legislature and signed into law by Gov. Ige established April as Volunteer Month in Hawai'i. In 2023, an ambitious target has been set to get more than 20,000 people involved in over 800 volunteer events throughout the seven islands of Hawai'i. This is a fantastic opportunity for individuals to make an impact on their state and experience the unique culture of Hawai'i. If you care about giving back to your community, look no further! Reach out now and join us in making a difference in Hawai'i! See below for great places to volunteer on Maui.
Kanu Hawaii
Here you'll find a list of excellent organizations needing volunteers.  Click on Maui, and you'll find volunteer opportunities with the Lahaina Restoration Foundation, Maui Nui Botanical Garden, Malama Hamakua Maui, Lahaina Divers, USFWS Keālia Pond National Wildlife Refuge, National Marrow Donation Program, Surfrider, Maui Cultural Lands, American Red Cross, Village of Hope Maui, Alexander and Baldwin Museum, SHARKastics, Big Brothers Big Sisters of Maui, Leilani Farm Sanctuary, The Salvation Army, Rotary Club of Kahului, Lahaina Sunset Rotary, Feed My Sheep, Na Hoaloha, Kipuka, and Olowalu.
Volunteering on Vacation is the perfect activity for:
Anyone who wants to give back when they visit Maui
Team building for corporate groups visiting Maui on business
Parents who want to teach their children about conservation
Families or groups looking for a fun, free, feel-good activity
Give Maui half a day of your time, and you'll get to see a side of Maui that is off the beaten trail. You won't just be another tourist spending your days lazing on the beach – your hard and fulfilling work will bond you to our island forever (and to our people!)
Here are a few places to volunteer or donate to those affected by the Maui wildfires:
Here are a few places where our volunteers can assist with eco-related ongoing projects: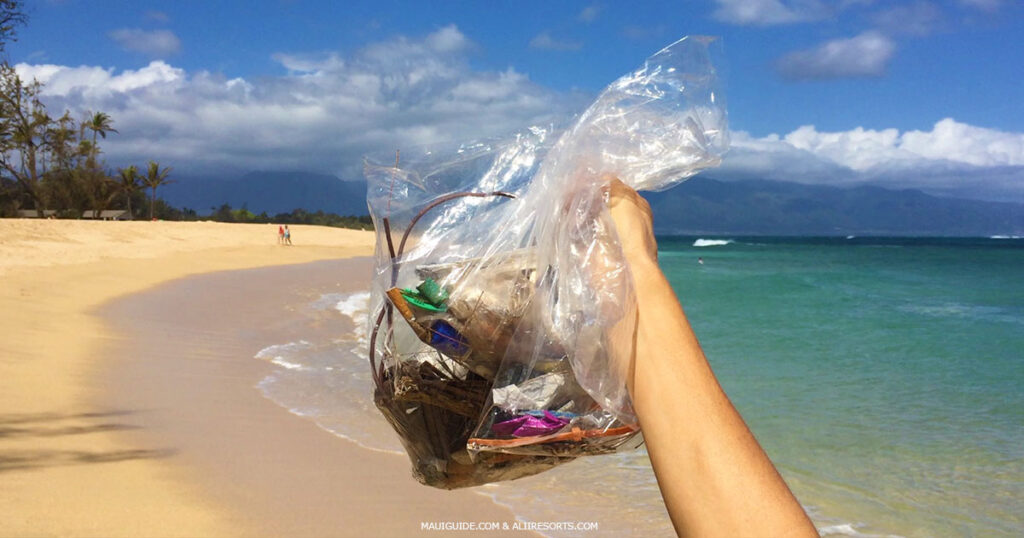 If you still need a place to stay during your visit to Maui, check out Aliʻi Resorts' list of gorgeous and surprisingly affordable vacation oceanfront rentals on Maui. Call our on-island-friendly vacation experts toll-free at 855-627-9527!