When is Maui Whale Watching Season?
Maui Whale Season runs from mid-December to mid-May.
In the past few weeks, the first Humpback Whales were spotted just off our shores, and we couldn't be more excited! Having the whales back "home" adds something indescribably special to our sun-soaked piece of paradise. You can look out to seemingly uneventful waters and know that at any moment you might be treated to a breach or the start of a long peduncle slap show. (Yes, strange word … it's the area nearest to the tail. The slap looks like it slapping its tail on the surface of the water.)

Whale Behavior
Whales conduct life in an entirely unique manner on and under the surface of the Pacific. Whale behavior is fascinating and, in some cases, beyond absolute definition. Do they breach for communication, to rid themselves of barnacles or could it be the best reason in the world … just for fun?
When on a whale watching tour, you'll likely see breaches, pec slaps, tail slaps, peduncle throws and arches, spy hops, and much more. If you happen upon a competition pod, you're in for some REAL action.
Humpback Whale Fun Facts
Humpback whales are among the most majestic creatures in the ocean. These magnificent mammals are known for their long migrations and beautiful songs. But did you know that there's more to these whales than meets the eye? Here are some fun facts about humpback whales that you may not have heard before.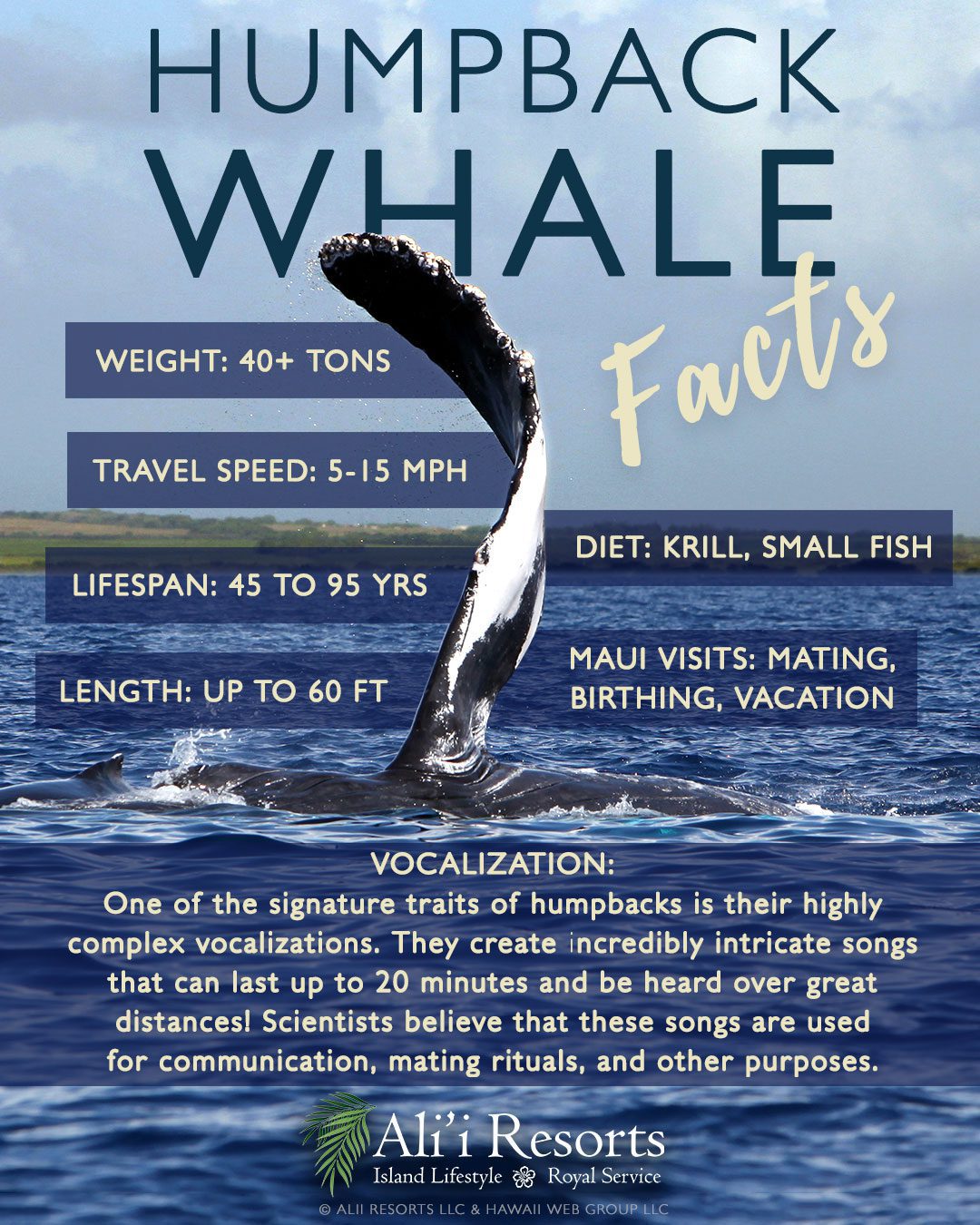 Size and Weight
Humpback whales can reach lengths of up to 60 feet, which is longer than a school bus! Their weight can also exceed 40 tons. That's as much as 10 elephants or a couple of tanks!
Lifespan
These amazing animals typically live between 45 and 95 years in the wild, although some individual specimens have been estimated to be over 100 years old!
Migration Patterns
Every year, humpback whales migrate thousands of miles from summer feeding grounds in polar regions to winter breeding grounds in warmer waters closer to the equator. They travel at speeds of 5-15 mph during migration, but they can reach 25 mph if needed.
Diet
Humpback whales feed primarily on krill and small fish like herring and capelin, although they will occasionally eat squid as well. To capture their prey, they use a specialized form of hunting called bubble netting—they encircle their prey with a wall of bubbles while swimming in circles around them at high speeds. This creates an effective "net" that traps their prey so they can consume it with ease. Humpbacks only feed in colder waters, where their meals are plentiful. Though you won't see a bubble net during your Maui whale watching tour, you will likely see plenty of action.
Vocalizations
One of the signature traits of humpbacks is their highly complex vocalizations—they create incredibly intricate songs that can last up to 20 minutes and be heard over great distances! Scientists believe that these songs are used for communication, mating rituals, and other purposes.
You may have heard a whale song on a nature program, or maybe even from a hydrophone in the water. They're all great ways of experiencing the melodies of these gentle giants but why not "take out the middle man"?
Tip of a lifetime: Dive below the waves, the deeper the better, hold still, and listen. That's right. Under the right conditions, you can hear the whales sing directly. Sound travels far in water and whales sing holding still so, while it may be intimidating, your fellow mammal is most likely nowhere near you.
 Whale Watching Tours
If you're planning a visit to Maui and want to get up close and personal with some of the majestic humpback whales that call this island home, you'll want to make sure you find the best Maui whale watch boat possible.
Here are three of our top picks for whale watching boats in Maui.
Maui Adventure Cruises – West (starting up again)
Maui Adventure Cruises offers both morning and afternoon tours that take place aboard their ultra-stable and fast rafts. Onboard guests are given refreshments, snacks, a stereo system, and an amazing crew! This company prides itself on providing guests with an intimate experience, as they limit their tour sizes. Guests also learn from experienced guides about the natural history of humpback whales and the islands.
Kai Kanani Sailing Charters – South
Kai Kanani Sailing Charters offers Makena charter tours aboard their luxury sailing catamaran perfect for groups looking for a more personalized experience. Their vessel offers delicious pupus, clean restroom facilities, plenty of room above and below, and even live music. These charters provide an excellent opportunity for families or smaller groups looking for quality time together while enjoying some incredible Maui whale watching!
Whether you're looking for an intimate Maui whale watching experience or something more grandiose, these top three boats are sure to give you an unforgettable experience. From large group cruises to small private charters, there's something for everyone when it comes to whale watching on Maui. So grab your camera and get ready to spot some amazing creatures!
Pacific Whale Foundation Boat Charters – South and West
The Pacific Whale Foundation Boat Charters offers an unforgettable experience with the opportunity to enjoy not only amazing views of the humpback whales, but also of Molokai Island, Lanai Island, and Kahoolawe Island. Each boat is outfitted with comfortable seating and at least 1 bathroom onboard. There are also knowledgeable crew members on each boat who can answer any questions you may have about the whales or other marine life you may see on your journey (ask about Spinner Dolphins!)

Boomkanani Kayaking Tours – West Maui
To this day, a kayak tour off the coast of Olowalu proved to be in the top 2 for best whale watches of our lives.  You just never know what's gonna happen, but if you're on a kayak and whales are around, you're closer than you would be on any boat.  Boomkanani tours are owned and operated by one of the sweetest Maui families you'll ever meet. Good people, great tour.


Maui Accommodations with Whale Watching Views
Though taking a Maui whale watching tour is going to be the best way to see them up close and personal, many prefer to have hours of viewing from their own lanai. That's where booking the best Maui oceanview units comes in! Check out the best properties to book in Wailea-Makena and South Kihei.