There's nothing like sitting in the sand with the sun on your face, a breeze in your hair, the smell of the ocean and, of course, a Mai Tai in hand. This Tiki-themed drink has become synonymous with Hawaii and for good reason. The tasty blend of rum, lime, orange and other tropical flavors is the perfect reflection of the fun and Aloha spirit you'll find on Maui. But, as with all cocktails, some bartenders make the Mai Tai better than others. If you're looking for the best of the best, here are some of the top places to find Mai Tais in Maui (in no particular order). 
A crowd favorite, Monkeypod makes a mean Mai Tai. What makes this iconic drink stand out from the rest? Glad you asked. Beside using quality ingredients, instead of just serving up your Mai Tai plain, they top it with a Lilikoi foam that customers absolutely rave about. It's made from honey, simple syrup, egg whites and lilikoi puree. What is lilikoi? Another great question. Lilikoi is just the Hawaiian word for passion fruit, which has been growing on the island since the 1920s.
The Monkeypod team also places a huge emphasis on their craft which is reflected in all they do, including their mixology.  Even the restaurant's name reflects Maui's Aloha spirit. The monkeypod tree is one of the only trees on the island that nourishes the greenery living around and underneath it, as its leaves release nitrogen to naturally fertilize the nearby soil. Monkeypod says that the Aloha spirit is much like this tree, nurturing everyone under the canopy.

Mama's Fish House, located on the north shore of Maui near the famous surfer town of Paia, serves up two delicious varieties of its signature Mai Tai. One is non-alcoholic with a sugary sweet flavor profile that even the smallest travelers in your family will enjoy (after all, they shouldn't be left out of the fun!). The other is the more tart original version.
This Tiki-themed eatery with its unarguably true Aloha vibe has been recognized for its fine dining experience on TripAdvisor and ranked as one of the most popular restaurants in the entire United States on Open Table. Even ZAGAT sings its praises, noting that the "tropical breezes make for an unforgettable experience."  
Make sure you enjoy your Mai Tai alongside the restaurant's famous dessert — the Polynesian Black Pearl made with Lilikoi chocolate mousse tucked inside a pastry seashell.
Don't forget! Reservations are required and the best way to ensure your spot is by picking up the phone and making your reservation old-school style. One of the best times to go is during Happy Hour for the affordable pupus or the local island appetizer.
On a budget? No worries. You can still enjoy one of Maui's best Mai Tai's without breaking the bank (or even coming close!) at this family favorite in South Kihei.
Three's Bar and Grill offers awesome drink specials, giving you a delicious Mai Tai for just $3.50. You can also opt for a top-shelf Mai Tai for a mere $6.50, which gets an upgrade with its Puerto Rican silver rum and dark rum float.
You'll definitely want to stop by for the fun Happy Hour, each day 3–6 p.m. and then resuming 9-10 p.m. In addition to the specially priced Mai Tai's listed above, you can also order the all-local Koloa Mai Tai, which features Hawaiian-made rums.
Whichever one you decide to go with, though, make sure that you take a pic and tag #threesbarandgrill so everyone can see what you're up to on Instagram! (Trust us, all your friends are going to be jealous!)
The legendary Kimo's is all about classic Hawaiian fare and nothing is quite as Hawaiian as the Mai Tai, so you can expect to find a top-notch variation of the cocktail on the Kimo's menu.
The lanai bar (lanai is the Hawaiian word for a covered patio, which means this bar promises you great views of the surrounding Maui beauty) serves up Kimo's Mai Tai, made with a house juice blend that's so fresh you can practically see the tree that grew the fruit!
Just like Mama's Fish House, Kimo's also has a signature dessert that you'll want to devour alongside sips of your perfectly chilled Mai Tai — Hula Pie. This tantalizing indulgence combines macadamia nut ice cream with a chocolate cookie crust topped all off with chocolate fudge, whipped cream and even more macadamia nuts. It's a huge serving, so you might want to share (though we won't blame you if you don't!).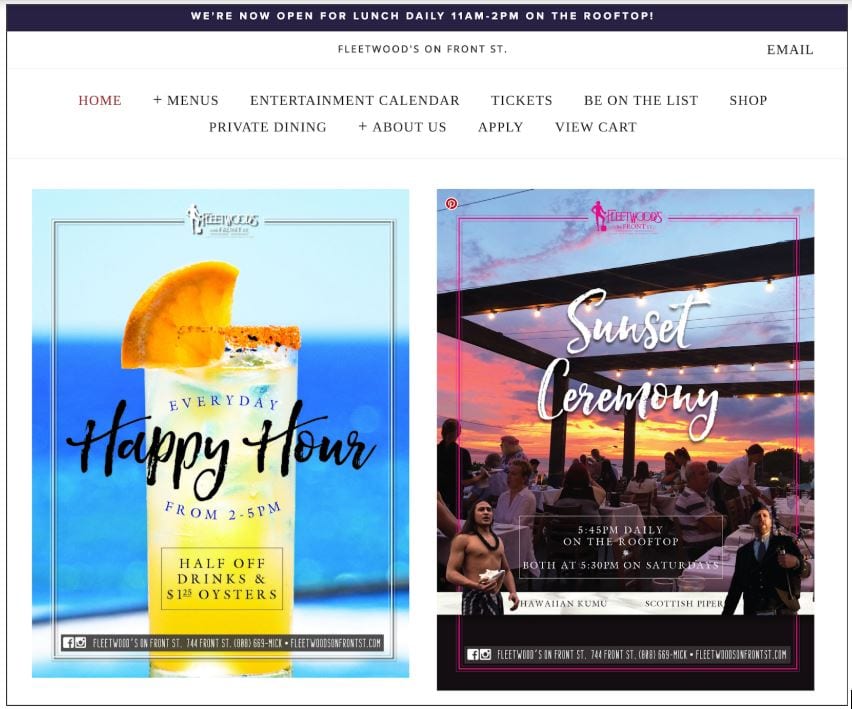 If the name seems familiar, it's because Fleetwood's is owned by Mick Fleetwood from Fleetwood Mac fame. While you might expect a celeb-owned restaurant and bar to be a little kitschy, that's one thing you won't have to worry about here. The vibe is super cool and upscale, and the daily live music includes some impressive acts.
The Mai Tai you'll find here is the same — cool, high-end and impressive. Called the 1944 Mai Tyler, it features fresh pineapple juice, two types of rum, lime juice, orange curacao, falernum (a sugary syrup with almond, ginger and lime flavors) and more of that Lilikoi foam. Take your drink on the rooftop for a fun sunset ceremony and keep your eyes peeled for celebs like Fleetwood's friend, Steven Tyler. With a great reputation like this, the spot can become a little busy, but it's well worth stopping by.
If you're in the neighborhood doing some shopping at the fantastic Shops at Wailea, take a break from all the retail therapy with a stop at Tommy Bahama's shop, restaurant and bar. The Mai Tai on the menu is an explosion of fresh flavors, including orange, lemon, lime and pineapple. All your tropical favorites are there.
The lunch and dinner menus are filled with tempting items and the chefs have truly thought of everything, even providing a huge gluten-sensitive and vegetarian section, so no one will miss out on all the fun.
Maui Brewing Company is Hawaii's largest craft brewery and its reach has expanded over the years so that it's now distributing its brews across the islands and on the mainland as well. However beer is not the only great drink on the menu. Maui Brewing Company serves up a delicious MBC Mai Tai that features 8-year old Bacardi, orange curacao and pineapple whip.
You'll enjoy sticking around to try several of the cocktails and beers on the bar menu. Don't drink on an empty stomach, though! The kitchen menu is expansive and features mouthwatering options like the classic Loco Moco, ahi poke tostadas and craft pizzas.
Have you found the perfect eatery or bar to add to your itinerary from the selections above? You can't go wrong with any of these fabulous spots. Some visitors even like to hit several in a row, creating their own Mai Tai tour of the island!
Of course, after all the fun, you'll need a relaxing spot to come back to safe and sound. Your very own beachfront condo or luxury suite could be just the thing. You'll enjoy extra privacy (in case you want to continue the party back at your place), world-class service and the peaceful seclusion you won't find at any big-box resort (perfect if you maybe have a few too many Mai Tai's and need a little extra sleep).
Check out Ali'i Resorts broad selection of accommodations available in South and West Maui. We can't wait to welcome you to the Ali'i Resorts Ohana!