Whether it's your first time on Maui or you have been here before, the magic of this island remains fresh and unique throughout the year. Famous for its cathartic trade winds, tropical taste and ever beautiful microclimate, Maui has something for people of all ages. 
Now if you are a Senior, Maui is the perfect place to unwind and relax but that's just the start. There are activities and experiences on Maui that will leave you wanting more. From group yoga classes to private surf lessons, there's a multitude of options for Seniors wanting to experience Maui in a new way.
At Ali'i Resorts, we host Seniors from all around the globe in our luxurious, private, and relaxing Maui condos. In our over a decade worth of experience in crafting the best Maui stay for Seniors, we have also learned a thing or two. As a result, we bring you a carefully designed list of the best things for Seniors to do on Maui.
We highly recommend you read this to the full. Share it with your network, so they, too, can make the most out of it on their visit to Maui.
Let's dive in.
#1 Explore Maui's Hidden Gems
From lush green forests to pristine, soft-sand beaches to tracing the origin of Hawaii, Maui has a lot to offer to Seniors. It might sound "cliche", but our top recommendation is that you head out to explore the hidden gems of Maui.
When done right, this can lead you to explore some of the most amazing places that you might not have heard of. Trust us, there are thousands of sweet spots and secret places on Maui waiting to be explored. The all-year favorable microclimate also makes this adventure worthwhile.
If this is your first time on Maui, we highly recommend hiring a local guide who will be aware of these unexplored paths and can guide you to them with ease. However, if you have traveled to Maui in the past or if you prefer to be a self-starter, we'd highly recommend reading the following blog posts that detail some of the best things Seniors can do on Maui:
Remember, you can discover the real Maui when you don't follow a set route. Don't hesitate to take the road less traveled.
#2 Book Yourself a Food & Drink tour
The culture of a great place is defined by its food and drink. Maui is no exception. With a plethora of delicacies, Maui offers some of the most unforgettable culinary experiences in the world. 
Maui's many organic, farm-to-table restaurants offer some of the best land and seafood on the planet. Everything's made with care and an undying "Aloha" spirit.
Food & drink tours on Maui help curate a remarkable culinary experience for you at an affordable price. They are exceptionally popular because of two reasons: they offer a unique experience and they are crafted for your needs. 
At Ali'i Resorts, there are four Food & Drink Tours we love. We also recommend these to all the Seniors who stay with us. Check them out:
You can learn more about each of these tours in more detail here.
Note: Booking your tour in advance will help you pick the date of your choice and also avoid any last-minute rush.
#3 Explore The Wailea Shops (South Maui)
When on Maui, you need to know the go-to place when you are in the mood for shopping. One such amazing place is The Wailea Shops. From luxury brands to bespoke souvenir shops, The Wailea Shops have everything you can imagine, all in one place.
The best part: there are plenty of amazing options to dine so be ready to fill up with delicacies before or after a Mauian shopping spree at The Wailea Shops.
The Wailea Shops are located in the heart of Wailea and are operational daily, 9:30 am – 9:00 pm. You can learn more by following their Facebook page.
#4 Check Out The Whalers Village (Lahina Side)
If you find yourself on the Lahaina side and feel like going for a Hawaiian shopping spree, be sure to visit The Whalers Village. 
Source: kaanapaliresort.com
With 70+ fine shops offering great deals on various items – both local and international – you will be spoiled with all the choices. Similar to The Wailea Shops, the Whalers Village boasts of restaurants that are preferred by travelers both for a quick bite and dining.
Learn more about The Whalers Village here.
#5 Play at the Golf Courses
Maui is famous for its numerous, world-class golf courses that are home to world-class golfers. What could be better than experiencing the majestic trade winds and playing golf by the Pacific?
At Ali'i Resorts, we love golf and are a huge fan of the sport just like every other Mauian. Best of all, when you decide to play, you have access to world-class infrastructure and playing facilities.
For us, the Kapalua Plantation Course is a great place to start. It's often referenced as one of the most dramatic golf courses of any on the PGA Tour.
We highly recommend checking out our full list of the Top 5 Golf Courses on Maui.
#6 Experience The Spas
Enhance your love for nature and lose yourself in some of the best spas in the world. Imagine being near the Pacific with no distractions and a clear focus on the one thing that's most important: your body.
Spas on Maui champion the philosophy of bodily healing. We believe in the power of rejuvenation with activities like experiencing a spa that helps you relax, unwind, and forget your worries.
For your ease, we picked the 4 best spas on Maui worth trying.  Give it a chance!  
#7 Discover Maui Ocean Center
Looking to check off or add experience to your bucket list? Maui Ocean Center is the place to go.
A beautiful Hawaiin aquarium, Maui Ocean Center features some of our richest aquatic life in a way that inspires, entertains, and educates you and your Ohana. Hawaii has an extremely unique and diverse marine life. At the Maui Ocean Center, you get up close with the marine life and experience the magical underwater world.
Source: mauioceancenter.com
It's one of the world's top 10 aquariums and ranks high on almost all lists of "top things to do on Maui". 
The Maui Ocean Center conducts daily presentations the schedule of which can be found here for more information.
#8 Visit a Lavender Farm
Get ready to revel in the wonders of lavender by visiting a lavender farm on Maui. It's a beautiful and extremely relaxing leisure activity that you can choose on a Maui day out.
One of the popular lavender farms is the Ali'i Kula Lavender Farm nestled on the slopes of Haleakala. They pride themselves on creating products that enrich the quality of life by evoking joy, rejuvenation, comfort, and serenity. Each product is carefully made using natural, botanical and organic ingredients as often as possible.
You also will learn a lot about flowers in general so you'll never be bored. Find out more about the Ali'i Kula Lavender Farm or plan your visit.
#9 Explore a Botanical Garden
On Maui, you are always close to nature. Whether it's the perfectly serene Pacific views or the trails alongside the Road to Hana, you'll always be immersed in exceptionally cathartic environments. 
But if you are a Senior looking for more, we highly recommend exploring the beautiful botanical gardens of Maui. You can enjoy and see various types of plants in these gardens and can take photos – both for your memories and for sharing it with your Ohana.
One of our favorites is 1968 established Kula Botanical Garden. It is a fully family-owned and operated business that opens up the world of plants for you. Kula Botanical Garden also features a gift shop with made-in-Hawaii items and items of botanical interest.
It is open daily from 9 am – 4 pm.
#10 Experience The Joy of Wine Tasting Ulupalakua
No other joy compares to that of wine tasting. But when you are in Hawaii, this feeling multiplies into an unforgettable experience. With various wine tasting tours all across Maui, you have a chance to learn, enjoy, and experience wine tasting in its most raw form.
Source: wondersofmaui.com
At Ali'i Resorts, we suggest you check out the best winery on Maui called MauiWine. 
MauiWine has deep cultural roots and of course, some of the best wines you'll have on Maui. Did we mention that our favorite is amazing (and famous) pineapple wine?
You can learn more about MauiWine here.
#11 Go Whale Watching (Seasonal)
Kohola, or what's better known as the mighty humpback whales, make a long journey from Alaska to the warm, gentle Hawaiian waters to rest, mate and give birth to their young. In all of Hawaii, Kohola has been a big part of the culture for thousands of years.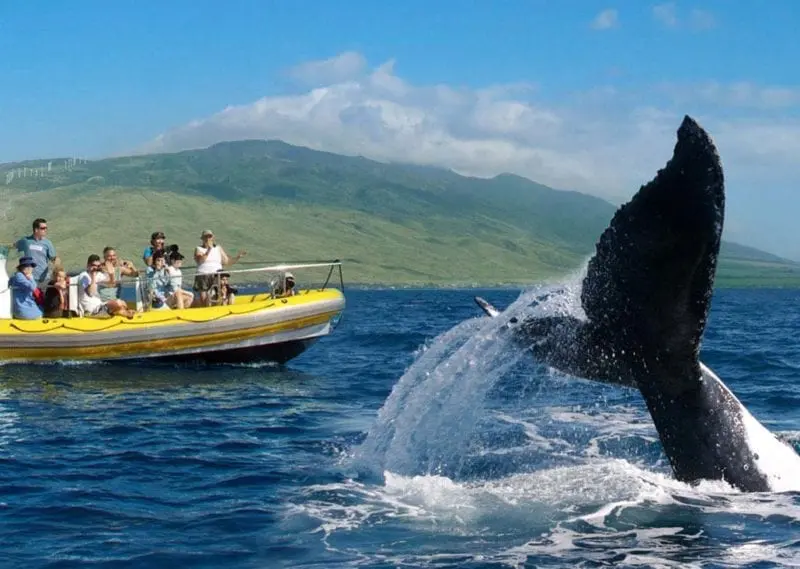 If you are planning your Maui visit between November through May, you'll get lucky and see these beautiful and huge animals swimming through Maui's waters. It's an unforgettable experience that you'll often talk about with your friends and Ohana.
As a Senior on Maui, this is one of the best things to do.
#12 Do a Sunset Tour
Think you have seen some of the most gorgeous sunsets of your life? You will be surprised when you take a sunset cruise tour in Maui. A perfect relaxation and rejuvenation activity for Seniors on Maui, it's unlike any sunset you have seen before.
Source: sailtrilogy.com
The spread of colorful clouds above you and the majestic reflection of lights right in the ocean will make you one with nature. A sunset tour is worth it and we highly recommend that you book yourself one to kick start your Mauian evening.
Here are some of the sunset tours we often suggest to seniors booking with us at Ali'i Resorts:
Check out these tours and don't forget to make it romantic or memorable with your Ohana.
#13 Plan a Romantic Sunset Dinners (Lahaina Side)
What's better than sitting under the guiding light of our stars with colorful skies throwing different shades of oranges and reds at you at all times? Nothing.
A romantic sunset dinner on the Lahaina side of Maui gives you complete control of your expression and love. As a Senior, it's never too late to confess your love for Ohana one more time. 
So plan it out. Choose one of the many exciting and romantic places. Live the sunset as it happens with your Ohana.
It doesn't get better than this.
#14 Visit Maui Arts & Cultural Center
Whether you are an art lover or not or even if you don't know anything about art, visiting the popular Maui Arts & Cultural Center will open up a world of joy for you.
At the Maui Arts & Cultural Center, you will see how Maui (and Hawaii as a whole) has come to its present by showcasing our rich and diverse history.
Source: mauiarts.org
Spend time here and you'd be surprised by how many things you didn't know about Maui.
Visit the Maui Arts & Cultural Center's website to learn more.
#15 Get a 360 Degree View of Maui on a Helicopter Tour
On Maui, you can go from postcard-perfect beaches to lush rainforests to serene lava fields, and more without traveling 1000s of miles. However, many parts of our island are untouched and aren't accessible by road. This makes for the perfect adventure activity for all Seniors: a helicopter tour.
Best done with someone special, a helicopter tour offers a 360-degree view of the island – something that only a few people get to see in their lifetime. Maui looks remarkable from the top and if you are even a little into adventure, book yourself a helicopter tour.
To make it easy, we have shortlisted the best helicopter tours to choose from.
These helicopter tours also happen to be some of our favorites and we highly recommend choosing the one that fits your budget and offers the best overall experience.
You can read more about these helicopter tours in detail here.
What are some of the things you are looking forward to doing as a Senior on Maui? Tell us in the comments below!